Reducing Human-Elephant Conflict Through Improved Monitoring, Stakeholder Engagement And Law Enforcement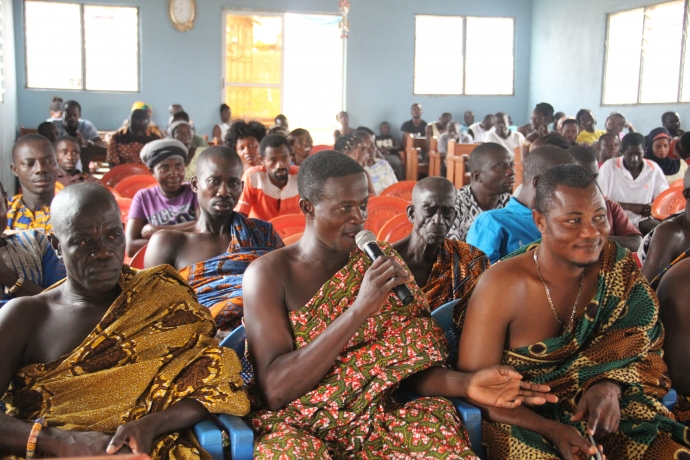 Mole National Park: The Amazing World of Elephants
The Amazing World of Elephants documentary from the AEF project in Ghana entitled: Elephant Conservation Through Law Enforcement And Stakeholder Engagement In Mole National Park And Its Corridors
.
For farming communities situated around the edge of both Kakum and Bia Conservation Areas in the Central and Western regions of Ghana, elephant crop raiding is a serious problem.
The raids are caused by the expansion of farms into forested areas in a bid to increase productivity and household income. The affected communities have resorted to poaching to deal with the threat the elephants are posing to their livelihoods.
To mitigate these threats, the African Elephant Fund in collaboration with Conservation Alliance and Ghana's Wildlife Division of the Forestry Commission implemented a project entitled "Reducing human-elephant conflict through improved monitoring, stakeholder engagement and law enforcement".
The project conducted a series of biodiversity education programmes to impart knowledge and practices that would enable communities to protect their crops while simultaneously supporting elephant and biodiversity conservation. The techniques used to mitigate human-elephant conflict include infusing chilli pepper on clothes and hanging them on the fences, and establishing bee colonies at the borders to keep elephants away from the local communities.
The project improved farmers' livelihoods and created awareness of the importance of biodiversity conservation, while deterring elephants from raiding farms. It improved the ecological health of landscapes, supported farmers to acquire the capacity to apply innovative anti-crop raiding techniques, promoted crop diversity and improved management of the protected areas.
These engagements have rekindled a deep interest in conservation among communities and other stakeholders. A study conducted at the end of the project revealed that over 82 per cent of community members accept that elephant conservation is important for enhancing the ecological health of the ecosystem and human wellbeing.
Video: CITES CoP17, Where wildlife matters
This figure is likely to rise as more and more people participate in the project and benefit from the use of the deterrents. This should lead to better communication between Kakum and Bia National Forest park management and the surrounding communities, facilitating the resolution of possible conflicts of interest in the future.
"Crops planted on the periphery of the park, particularly maize and cassava, attract elephants that stray outside the park boundaries," said Nana Kofi Adu-Nsiah, Executive Director of the Wildlife Division. "Households lose more than 65 per cent of food crops cultivated annually to elephant crop-raiding alone.
In reaction to the losses being suffered as a result of the excessive crop raiding, the fringe communities resorted to poaching, which is threatening the wildlife population within the landscape." "The techniques which were introduced had a 100 per cent success rate, with raids ceasing on all farms which applied the techniques and practices.
Together with the improved agricultural practices, this ensured more food security for farmers in the area. Besides that, community members felt empowered; farmers took up the responsibility of protecting their field instead of calling in the help from wildlife officers in the area.
Communities have organized themselves to trade in chilli and beekeeping with the support from the Wildlife Division in both areas," he adds.